Man Ray 1890 - 1976

Man Ray - Self-portrait - 1916

Man Ray - Self-portrait - 1932
---
Words by Michelle Cha
moustachemag | August 19, 2014
---
Marcel Duchamp, Max Ernst, Francis Picabia, Fernand Léger, Jean Arp, Joan Miro, Dada, Alfred Stieglitz, Lee Miller, Dorothea Tanning etc;
---
by Alastair Sooke in The Telegraph - February 5, 2013
It is 100 years this month since the International Exhibition of Modern Art – aka the notorious Armory Show – opened in New York. Containing canvases by Cézanne, Van Gogh and Picasso, it attracted the ire of the American press, who derided the avant-garde work on view as highfalutin and abstruse. At the eye of the storm was Marcel Duchamp's masterwork Nude Descending a Staircase, No 2 (1912), which one journalist mocked as "an explosion in a shingle factory".
Some visitors, though, were stimulated rather than shocked, including a 22-year-old artist called Emmanuel Radnitzky, the eldest child of a Ukrainian immigrant. For several months already, Emmanuel had been signing his paintings "Man Ray". After initiating a lifelong friendship with Duchamp, who arrived in New York in the summer of 1915, Man Ray went on to become a prominent member of Dada and Surrealism.
Today his Surrealist objects (a photograph of a woman's eye attached to a metronome; a flatiron bristling with menacing tacks) and his photographs (who can forget his vision of a woman's naked back decorated with scrolling F-holes from the soundboard of a violin?) are so well known that it is hard to believe, as its curator writes in the catalogue, that Man Ray: Portraits at the National Portrait Gallery is "the first show dedicated solely to his work in a British national museum". With more than 150 prints taken by Man Ray between 1916 and 1968, the exhibition offers a comprehensive overview of the artist's photographic career.
---
Man Ray by Krupa Upadhyay on Prezi
An unusual photographic presentation of Man Ray's career.
April 15, 2013
---
A signed Man Ray photograph has sold for more than three times its top pre-sale estimate, setting a new auction record for the photographer.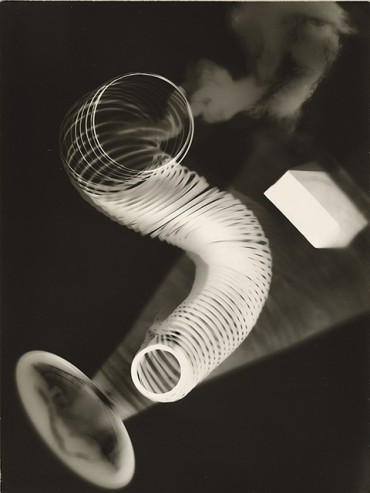 The gelatin silver photogram, called 'Untitled Rayograph' – created by Man Ray in 1922 – bowed out for $1,203,750 (around £790,000) at Christie's, New York yesterday.
The 23.5 x17.8 cm image had been expected to fetch $250,000-350,000.
Signed in pencil, on the mount, it set a new record for a photograph by Man Ray.
Amateur Photography -- by Chris Cheesman Friday, 5 April 2013
---
A wonderful tumblr. collection of photos and videos by and on Man Ray, including Chambre noire, filmed in la rue Férou, Paris. Essential viewing.
---
Homage to Man Ray: 56 photographs assembled by the Laboratorios de la Nada.
---
A huge collection of Man Ray photographs by Marie Kazalia.
---
Biography in Spanish published May 30, 2012 by blaspascal2011.
---
---
Only 36 seconds, but take a look! (on Hotties of Art History)
---

Man Ray in New York by Alfred Stieglitz
His background and early life
From the time he began attracting attention as an artist until his death more than sixty years later, Man Ray allowed little of his early life or family background to be known to the public, even refusing to acknowledge that he everr had a name other than Man Ray.
Man Ray was born Emmanuel Radnitzky in South Philadelphia, Pennsylvania, USA in 1890, the eldest child of recent Russian-Jewish immigrants. The family would eventually include another son and two daughters, the youngest born shortly after they settled in the Williamsburg section of Brooklyn, New York, in 1897. In early 1912, the Radnitzky family changed their surname to Ray, a name selected by Man Ray's brother, in reaction to the ethnic discrimination and anti-Semitism prevalent at that time. Emmanuel, who was called "Manny" as a nickname, changed his first name to Man at that time, and gradually began to use Man Ray as his combined single name.
Man Ray's father was a garment factory worker who also ran a small tailoring business out of the family home, enlisting his children from an early age. Man Ray's mother enjoyed making the family's clothes from her own designs and inventing patchwork items from scraps of fabric. Despite Man Ray's desire to disassociate himself from his family background, this experience left an enduring mark on his art. Tailor's dummies, flat irons, sewing machines, needles, pins, threads, swatches of fabric, and other items related to clothing and sewing appear at every stage of his work and in almost every medium. Art historians have also noted similarity in his collage and painting techniques to those used in making clothing.
Mason Klein, curator of an exhibition of Man Ray's work at the Jewish Museum entitled "Alias Man Ray: The Art of Reinvention," suggests that Man Ray may have been the first Jewish avant-garde artist."
First artistic endeavors
Man Ray displayed artistic and mechanical ability from childhood. His education at Boys' High School from 1904 to 1908 provided him with a solid grounding in drafting and other basic art techniques. At the same time, he educated himself with frequent visits to the local art museums, where he studied the work of the Old Masters. After graduation from high school, he was offered a scholarship to study architecture but chose to pursue a career as an artist instead. However much this decision disappointed his parents' aspirations to upward mobility and assimilation, they nevertheless rearranged the family's modest living quarters so that Man Ray could use a room as his studio. He stayed for the next four years, working steadily toward being a professional painter, while earning money as a commercial artist and technical illustrator at several Manhattan companies.
From the surviving examples of his work from this period, it appears he attempted mostly paintings and drawings in 19th-century styles. He was already an avid admirer of avant-garde art of the time, such as the European modernists he saw at Alfred Stieglitz's "291" gallery and works by the Ashcan School, but with a few exceptions, was not yet able to integrate these new trends into his own work. The art classes he sporadically attended, including stints at the National Academy of Design and the Art Students League, wereof little apparent benefit to him, until he enrolled in the Ferrer School in the autumn of 1912, thus beginning a period of intense and rapid artistic development.
New York
Living in New York City, influenced by what he saw at the 1913 Armory Show and in galleries showing contemporary works from Europe, Man Ray's early paintings display facets of cubism. Upon befriending Marcel Duchamp who was interested in showing movement in static paintings, his works began to depict movement of the figures, for example in the repetitive positions of the skirts of the dancer in The Rope Dancer Accompanies Herself with Her Shadows (1916).
Though executed entirely in oil paint, this work grew out of his numerous collage experiments. Its original composition was inspired by the view of a tightrope dancer in a vaudeville performance. Back in his studio, Man Ray cut colored paper into shapes resembling his memory of the dancer's acrobatic movements but, dissatisfied with what he had done, he discarded the scraps on the floor. Glancing down, he noticed that by chance they had formed an abstract pattern. Comparing the accidental pattern with shadows that a dancer might have cast, he incorporated it into his composition.
The dancer is outlined in grey and white at the top of the canvas, her legs and fluttering skirt shown in various positions simultaneously. Similarly, Man Ray depicts the tightrope six ways; each line swinging out from her feet atop the large planes of color, which represent the "shadows" cast by her figure.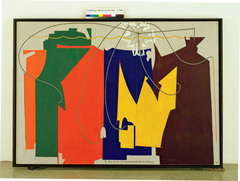 Man Ray - The Rope Dancer Accompanies Herself with Her Shadows
In 1915, Man Ray had his first solo show of paintings and drawings. His first proto-Dada object, an assemblage titled Self-Portrait, was exhibited the following year. He produced his first significant photographs in 1918.
Abandoning conventional painting, Man Ray involved himself with Dada, started making objects, and developed unique mechanical and photographic methods of making images. For the 1918 version of Rope Dancer he combined a spray-gun technique with a pen drawing. Again, like Duchamp, he made ready-mades, objects selected by the artist, sometimes modified and presented as art. His Gift ready-made (1921)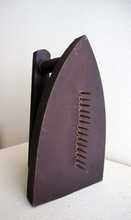 Man Ray - Gift
is a flatiron with metal tacks attached to the bottom, and The Enigma of Isidore Ducasse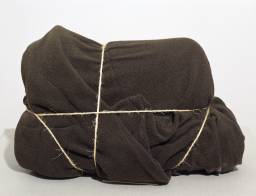 Man Ray - The Enigma of Isidore Ducasse
is an unseen object (a sewing machine) wrapped in cloth and tied with cord. Another work from this period, Aerograph (1919), was done with airbrush on glass.
In 1920 Ray helped Duchamp make his first machine and one of the earliest examples of kinetic art, the "Rotary Glass Plates" composed of glass plates turned by a motor. That same year Man Ray, Katherine Dreier and Duchamp founded the Société Anonyme, an itinerant collection which in effect was the first museum of modern art in the U.S.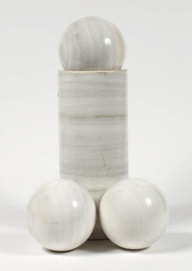 Man Ray - Priapic Paperweight - 1920
Ray teamed up with Duchamp to publish the one issue of New York Dada in 1920. Man Ray expressed that "dada experimentation was no match for the wild and chaotic streets of New York", and he wrote "Dada cannot live in New York. All New York is dada, and will not tolerate a rival." Man Ray moved to Paris in 1921.
Man Ray met his first wife, the Belgian poet Adon Lacroix, in 1913 in New York. They married in 1914, separated in 1919, and were formally divorced in 1937.
Paris
In July 1921, Man Ray went to live and work in Paris, and soon settled in the Montparnasse quarter favored by many artists. Shortly after arriving in Paris, he met and fell in love with Kiki de Montparnasse (Alice Prin), an artists' model and celebrated character in Paris bohemian circles. Kiki was Man Ray's companion for mostt of the 1920s. She became the subject of some of his most famous photographic images and starred in his experimental films.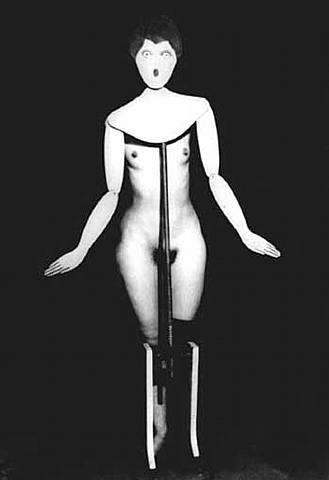 Coat-Stand (1921)
For the next 20 years in Montparnasse, Man Ray made his mark in the art of photography. Significant members of the art world, such as James Joyce, Gertrude Stein, Jean Cocteau, Bridget Bate Tichenor, and Antonin Artaud posed for his camera.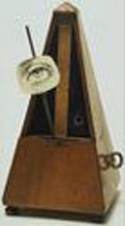 Man Ray - Object to Be Destroyed
[Man Ray's celebrated object of a readymade metronome with a photographic eye affixed to the swinging arm was first created in 1923 and titled Object to be Destroyed. In 1932, the artist made an ink drawing of the object with the following inscription on the reverse: 'Cut out the eye from the photograph of one who has been loved but is seen no more. Attach the eye to the pendulum of a metronome and regulate the weight to suit the tempo desired. Keep going to the limit of endurance. With a hammer well-aimed, try to destroy the whole at a single blow.' In the same year, Man Ray exchanged the eye on the metronome for a photograph of Lee Miller's eye. The bitter instructions on the drawing presumably were motivated by the recent ending of Man Ray's love affair with Lee Miller. The metronome object became an icon of Man Ray's work and responding to demand, two further editions were authorized by the artist in 1960s and 1970s with a new title of Perpetual Motif.]
With Jean Arp, Max Ernst, André Masson, Joan Miro, and Pablo Picasso, Man Ray was represented in the first Surrealist exhibition at the Galerie Pierre in Paris in 1925. Works from this period include Indestructible Object (1923) or Object to be Destroyed. In it a cut-out of one of Lee Miller's eyes ticks back and forth on the metronome. In the 1932 version, Man Ray included the instructions: "Cut out the eye from a photograph of one who has been loved but is seen no more. Attach the eye to the pendulum of a metronome and regulate the weight to suit the tempo desired. Keep going to the limit of endurance. With a hammer well-aimed, try to destroy the whole at a single blow." You would let it tick until you couldn't stand it, then by smashing it you would exorcise that lost love.
Another important work from this part of Man Ray's life is known as the Violin d'Ingres,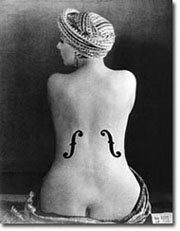 Man Ray - Violin d'Ingres
a stunning photograph of Kiki de Montparnasse, styled after the painter/musician, Ingres. This work is a popular example of how Man Ray could juxtapose disparate elements in his photography in order to generate meaning.
In 1934, surrealist artist Méret Oppenheim, known for her fur-covered teacup, posed nude for Man Ray in what became a well-known series of photographs depicting her standing next to a printing press.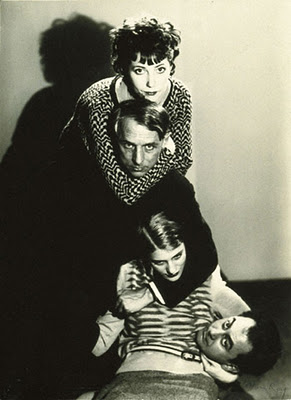 Marie Ernst, Max Ernst, Lee Miller and Man Ray (1931-1933)
In 1929 he began a love affair with the surrealist photographer Lee Miller. Together with her, Man Ray reinvented the photographic technique of solarization. He also created a technique using photograms he called rayographs, which he described as "pure dadaism".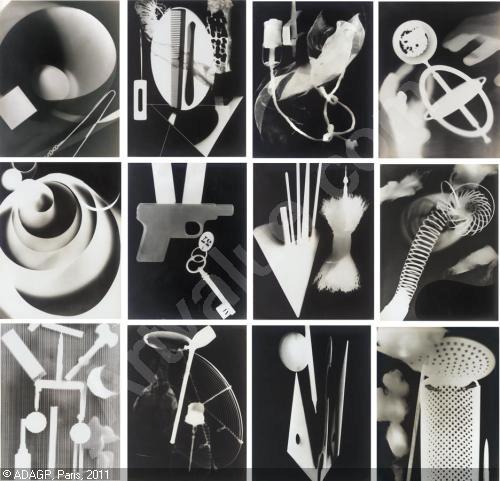 Man Ray - Champs délicieux: Photograph album - 1922
Man Ray directed a number of influential avant-garde short films such as Le Retour à la raison (2 mins, 1923); Emak-Bakia (16 mins, 1926); L'Étoile de mer (15 mins, 1928); and Les Mystères du château de Dé (20 mins, 1929). Man Ray also assisted Marcel Duchamp with his film Anemic Cinema (1926) and Fernand Léger with his film Ballet mécanique (1924). Man Ray also appeared in René Clair's film Entr'acte (1924), in a brief scene playing chess with Duchamp.
Duchamp, Man Ray, and Francis Picabia were friends as well as collaborators, connected by their experimental, entertaining, and innovative art.
Later life
Later in life, Man Ray returned to the United States, having been forced to leave Paris due to the dislocations of the Second World War. He lived in Los Angeles, California from 1940 until 1951. A few days after arriving in Los Angeles, Man Ray met Juliet Browner, a trained dancer and experienced artists' model. They began living together almost immediately, and married in 1946 in a double wedding with their friends Max Ernst and Dorothea Tanning. However, he called Paris home and they returned there.
In 1963 he published his autobiography, Self-Portrait, (republished in 1999). In the last years of their life together, they barely survived in a desolate studio on the rue Férou.
He died in Paris on November 18, 1976 of a lung infection, and was interred in the cimetière de Montparnasse. His epitaph reads: "Unconcerned, but not indifferent." When Juliet died in 1991, she was interred in the same tomb. Her epitaph reads, "Together again." She had set up a trust for his work and had made many donations of his work to museums.
---
Video of Man Ray photos on the music of Ravel's Bolero
by ForeverIsis
Created by youtube.com/user/cuoylyf
---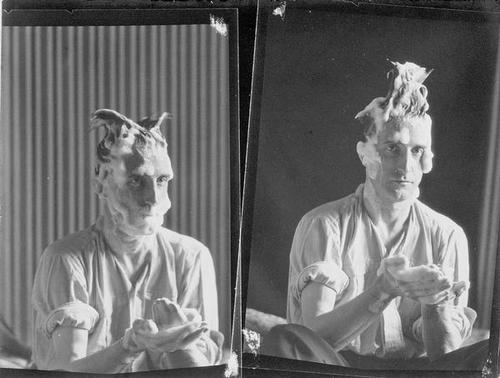 Marcel Duchamp by Man Ray
---
Marcel Duchamp and Man Ray
In 1915, when Marcel Duchamp accompanied Walter C. Arensberg in 1915 to visit Man Ray in Ridgefield, NJ, the two artists, meeting for the first time, played an impromptu game of tennis. Man Ray recalled with humor: "Duchamp didn't speak English and my French was nonexistent [...] so in order to have a conversation I would give a name to each pass [...] and each time Duchamp would reply in English with a single word, "yes".
---
at the MOMA
---

Man Ray - New York - 1920
---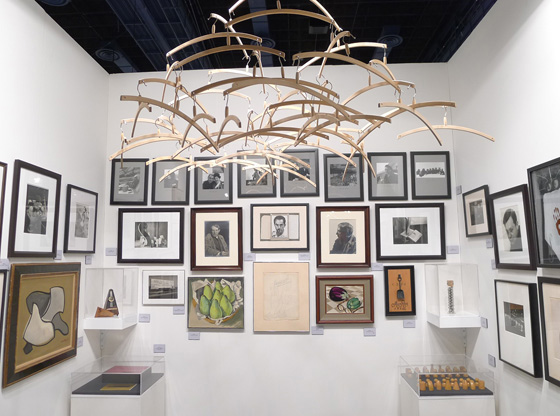 Francis Naumann's Man Ray gallery, with his 1920 Obstruction clothes-hanger mobile (63 wooden hangers, recreated in 1961), on sale for $65,000 at Art Basel Miami Beach in December 2010.
---
Gallery of Exceptional Man Ray Photos
(unfortunately without captions) by Firsttimeuser
http://firsttimeuser.livejournal.com/53574.html
http://firsttimeuser.livejournal.com/53828.html
---
Man Ray was one of the greatest surrealist painters and photographers of the 20th century. From 1934 to 1942, he produced a body of work for Harper's Bazaar, photographing personalities in the society, entertainment, and literary worlds as well as the fashions of Chanel, Schiaparelli, Molyneux, featured with his own artwork and those of his friends Constantin Brancusi and Alberto Giacometti. Man Ray had an immediate impact on fashion photography. His work made use of many of the innovative and unorthodox techniques he experimented with.
"Man Ray - The Bazaar Years" is a tour of an exhibit of Man Ray's commercial work, mainly as a fashion photographer for Haper's Bazaar. It discusses the relation between his commercial work and his artistic photography.
---
Bernard Marcadé on Duchamp, Man Ray, Picabia
Coinciding with the first exhibition to explore the inter-relationship between Duchamp, Man Ray and Picabia, staged at the Tate Modern in 2008, Marcadé examines how they laid the foundations of much contemporary art.
---
Illustrated article by Kevin Holmes
---
[...] At a later time Kay spoke about Marcel Duchamp and Man Ray. After Duchamp's notorious Nude Descending a Staircase had been rejected by the organizing committee of the Cubist show in 1912 at the Salon des Indépendents, Duchamp submitted it for exhibition at the 1913 New York Armory Show of American and European artists. It was accepted and caused a sensation. At this time he visited a young American painter, Man Ray, and remained very close friends with him as long as both lived.
Kay told me that, years before she met Marcel Duchamp, she had heard his name from her mother, a remarkable woman who had pressed upon her the early works of Joyce and other experimenters. Kay did meet Duchamp and his long-time love, Mary Reynolds, in Paris, and they became close friends. It was with Kay, indeed, that Duchamp spent his last weeks in Megève, near Marseilles, while he waited for the Vichy government to issue him an exit visa to go to America. By this time, she had separated from her husband, Laurence Vail, though they still saw each other almost daily in an ensemble of friends gathered in Megève. At a party in 1941 that included Vail's former wife, Peggy Guggenheim, a quite drunk Vail suddenly became outraged that Kay had left him, and he physically attacked her. Duchamp leaped between them and prevented mayhem. (He later sardonically described this sudden protective act as the bravest thing he had ever done.)
I asked Kay why Duchamp had given up painting so early, even as his brother Jacques Villon had continued for so long. Who might know better than she? All she said, rather distractedly, was:
"Oh, Marcel. . . you know. . . . The chess thing. And his precious solitude.
Or indifference to continuing. . . I really don't know, really. After all, he's a complete mystery, even to himself."
So I let the question go, knowing, again, that I would never know. [...]
---
Jay Martin
---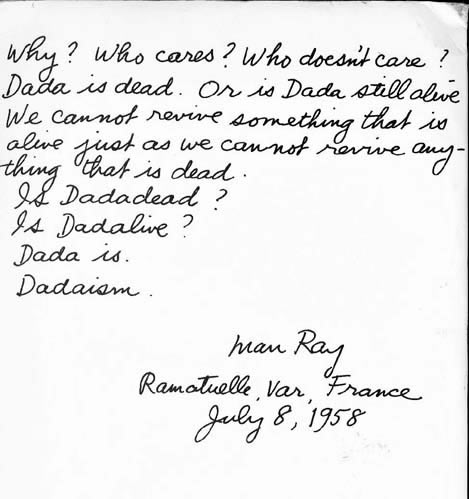 ---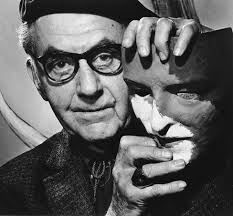 Man Ray by Yousuf Karsh (1965)