dadagildaeugene
Recent Books on Dada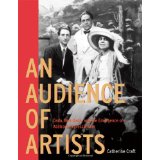 Catherine CRAFT - An Audience of Artists: Dada, Neo-Dada, and the Emergence of Abstract Expressionism
An Audience of Artists has a great deal to offer a reader interested in Abstract Expressionism, its possible forerunner, Dada, and its later development, Neo-Dada, if indeed that was the case. I have my own doubts about this line of thought, but Catherine Craft has amassed a great deal of information and documentation and writes clearly and knowledgeably.
Jim Burns
12 juin 2012
328 pages
University of Chicago Press
42,04 euros
ISBN-10: 0226116808
---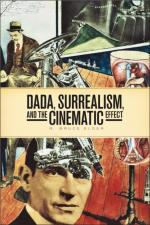 R. Bruce ELDER - Dada, Surrealism, and the Cinematic Effect
This book, a companion to Elder's previous publication, Harmony & Dissent, examines the Dada and Surrealist movements as responses to the advent of the cinema. The author is one of Canada's foremost experimental filmmakers.
May 2013
Wilfrid Laurier University Press
776 pages
$85.00
ISBN13: 978-1-55458-625-7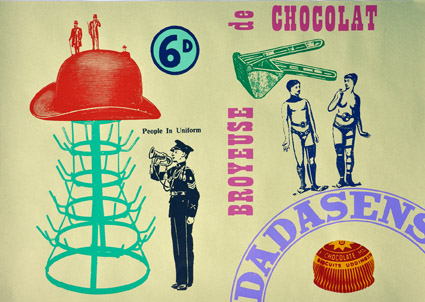 20 different screenprints by Francis Van Maele and Antic-Ham
42 x 60 cm - coloured sugar paper
Price each: 95 euros / 135 US $ / 80 UK pds
Order by Paypal and mention the print you want
You can order also by email at info@redfoxpress.com
These prints have been hand printed in silk screen in Ireland on Achill Island in 10 to 15 copies each, numbered and signed. They are artist proofs from the book Franticham's Dada Univers.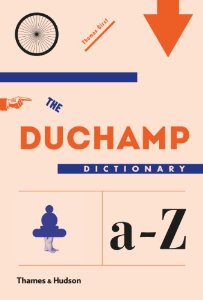 Thomas GIRST - The Duchamp Dictionary
This new book explores the artist's life and work through short, alphabetical dictionary entries that introduce his legacy in a clear and engaging way.
From alchemy and anatomy to Warhol and windows, The Duchamp Dictionary offers a pithy and readable text that draws on in-depth scholarship and the very latest research. Thomas Girst includes close to 200 entries on the most interesting and important artworks, relationships, people, and ideas in Duchamp's life - from The Bicycle Wheel and Fountain to Walter and Louise Arensberg, Peggy Guggenheim, Katherine Dreier, and Arturo Schwarz. Delightful, newly commissioned illustrations introduce each letter of the alphabet and accompany select entries, capturing the irreverent spirit of the artist himself.
May 13, 2014
Thames & Hudson
59 colour illustrations by Luke Frost and Theresa Vandling
$23.06
ISBN-10: 0500239177
See also "9 Things You Didn't Know About Dada Master Marcel Duchamp"
well illustrated article from The Huffington Post on Duchamp (with a few errors)...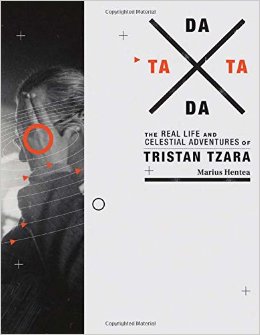 Marius HENTEA - Tata Dada

The Real Life and Celestial Adventures of Tristan Tzara
As the leader of Dada, Tzara created 'the moment art changed forever.' But, Hentea shows, Tzara and Dada were not coterminous. Tzatra sent on to publish more than fifty books; he wrote one of the great poems of surrealism; he became a recognized expert on primitive art; he was an active antifascist, a communist, and (after the Soviet repression of the Hungarian Revolution) a former communist.
October 2014
The MIT Press
360 pages + 60 illus.
$34.95 - 28,95 euros
978-0-262-02754-0
Megan R. LUKE - Kurt Schwitters: Space, Image, Exile
Schwitters' capricious art was anathema to the Nazis, who displayed it in the notorious travelling display Entartete Kunst (Degenerate Art) intended to ridicule and stamp out art that the regime saw as cultural pollution. Megan Luke's energetic study homes in on the decisive moment when Schwitters hurried off to Norway in early 1937 to escape the impending Gestapo knock on the door. He foolishly thought the danger might blow over, but instead found he had opted for permanent exile: it was to extend to his death in northern England in 1948.
February 14, 2014
University of Chicago Press
352 pages
42,57 euros
ISBN: 9780226085180
See Roger CARDINAL's complete critique of the later work of an avant-garde German artist during his years in exile in Times Higher Education, June 6, 2014.
See also Daydreaming w/ Bob Arnold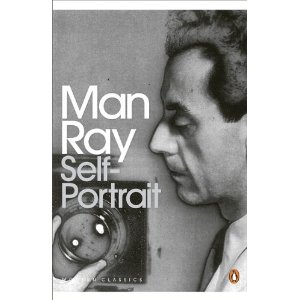 MAN RAY - Self-Portrait
Penguin Classics has had the excellent initiative of reprinting these memoirs, giving readers another chance to travel back and forth across the Atlantic between New York and Paris. Written during his final years and spanning almost eight decades, Man Ray told an amusing yet poignant tale of a life spent in the company of Duchamp, Dali, Ernst, Matisse, Hemingway, Picasso, Joyce and Giacometti, as well as Lee Miller, Nancy Cunard and Gertrude Stein.
5 April 2012
Penguin Classics
416 pages with black and white photographs
£9.74
ISBN-10: 0141195509

Anne UMLAND and Adrian SUDHALTER, with Scott GERSON (editors) - DADA in the Collection of The Museum of Modern Art
This volume combines serious scholarship with superb illustrations. It contains some 70 works in various mediums - books, collages, drawings, films, paintings, and reliefs - presented in large-scale reproductions and accompanied by well-documented articles. The artists: Hans Arp, Johannes Baader, Johannes Baargeld, John Covert, Jean Crotti, Otto Dix, Theo van Doesburg, Marcel Duchamp, Max Ernst, Baroness Elsa von Freytag-Loringhoven, George Grosz, Hannah Höch, Marcel Janco, El Lissitzky, Man Ray, Francis Picabia, Hans Richter, Viking Eggeling, Christian Schad, Kurt Schwitters and Sophie Taeuber. A feast for the eyes as an introduction to the movement.
2008
The Museum of Modern Art, New York
352 pages
$60
ISBN 9780870706684
Francis M. NAUMANN - The Recurrent, Haunting Ghost
After a lifetime of studying Marcel Duchamp, art dealer and Dada expert Francis M. Naumann has produced his final opus on the enigmatic 20th-century artist, calling it "the end of an obsession." The Recurrent, Haunting Ghost (Readymade Press) is a 560-page compilation of Naumann's numerous essays on Duchamp, copiously footnoted and generously illustrated. (The title comes from a remark the late MoMA curator Kirk Varnedoe made to Robin Cembalest for a 1993 story.)
2012
Readymade Press
560 pages
Alec NEVALA-LEE - The Icon Thief
Marcel Duchamp and the New York Russian mafia may not seem connected to most people, but novelist Alec Nevala-Lee brilliantly ties them together in his debut novel The Icon Thief. At the center of this thriller is Etant Donnés, Marcel Duchamp's enigmatic final installation. Composed in secret, Duchamp worked on the piece for over two decades and wasn't revealed to the public until after Duchamp's death in 1968. In his novel, Nevala-Lee sheds quite a bit of light on Duchamp's Etant Donnés while also telling a story about organized crime, international conspiracy, and art trafficking. The Icon Thief has been described as "cerebral" and "exciting" by Publishers Weekly.
After graduating from Harvard University with a degree in classics, Alec Nevala-Lee spent several years as an associate at a New York investment firm before pursuing a career as a novelist. He is also prolific essayist and nonfiction writer, and his work has been featured in Salon and The Los Angeles Times.
March 2012
A Signet Book
Mass Market Paperback
416 pages
$9.99
ISBN: 0451236203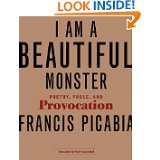 Francis PICABIA - I Am a Beautiful Monster: Poetry, Prose, and Provocation. Translated by Marc LOWENTHAL
A self-declared poet, painter, idiot, failure, pickpocket, and anti-artist, Francis Picabia was one of the leading figures of the Dadaist movement. Now, almost 50 years after his death, The MIT Press has released the first English translation collection of his writings.
Beginning in Zurich in 1916, Dada's beginnings as an antiwar statement against the senseless violence of World War I evolved into the first avant-garde art movement. Picabia's art and writings were always a confrontation, a reaction against the unscrupulous bourgeoisie that led Europe into war, a reaction against capitalism, the art establishment, and the establishment in general. He deliberately slaughtered syntax and deconstructed linear meaning in an attempt to purify assumptions about writing, art and the meaning of existence. [...]
Sharon Anderson
2012
The MIT Press
488 pages [Paperback]
US $21.95
ISBN: 0262517485


Michel SANOUILLET and Elmer PETERSON, editors
Marcel DUCHAMP - The Writings of Marcel Duchamp
In the twenties, Dada proclaimed that words had stopped playing around and had begun to make love. Nowhere is this more apparent than in the writings of Marcel Duchamp, who fashioned some of the more joyous and ingenious couplings and uncouplings in modern art. This collection beings together two essential interviews and two statements about his art that underscore the serious side of Duchamp. But most of the book is made up of his experimental writings, which he called "Texticles", the long and extraordinary notes he wrote for The Bride Stripped Bare By Her Bachelors, Even (also known as The Large Glass), and the outrageous puns and alter-ego he constructed for his female self, Rrose Sélavy ("Eros, c'est la vie" -- "arroser la vie" or "drink it up" -- "celebrate life"). Wacky, perverse, deliberately frustrating, these entertaining notes are basic for understanding one of the twentieth century's most provocative artists, a figure whose influence on the contemporary scene has never been stronger.
See also a recent review of the book by Ed NEWMAN
Da Capo Press Inc.
208 p.
New edition
11,06 euros
ISBN: 0306803410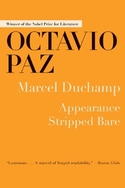 Octavio PAZ - Marcel Duchamp, Appearance Stripped Bare
Octavio Paz claims in this essential work that the two painters who had the greatest influence on the twentieth century were Pablo Picasso and Marcel Duchamp. If that conjunction surprises at first, Paz makes a convincing case with his analysis and by contrasting the two artists. "I have linked their two names," he writes, "because it seems to me that each of them has in his own way succeeded in defining our age: the former by what he affirms; the latter by what he negates, by his explorations." Considering Duchamp's career and writings from his scandalous Nude Descending a Staircase in 1913 to his subsequent investigations, from his Large Glass and kinetic art to the Readymades and "physiques amusantes" ("comic calculations"), Paz offers a highly personal assessment, exploring the apparent contradictions and seeming enigmas with the insight and lucidity that characterized all his writing.
When this book was first published, Publishers Weekly called it an "extraordinary and indispensable book" and said: "Paz may have come closer to Duchamp's essence as a philosopher of spiritual freedom than any critic to date."
Arcade Publishing
2014
Paperback
$14.95

Michel SANOUILLET - Dada in Paris
Now available in paperback for $19.57
Retranslated by Gillian BEAUMONT (bmt_g@talktalk.net)
In 1965 the public viva of Michel Sanouillet's doctoral thesis Dada à Paris at the Sorbonne was threatened with disruption by members of the radical Lettriste group, whose leader Isidore Isou protested against the appropriation of Dada by the academic establishment., arguing that the Lettristes were the true heirs of Dada. Yet Sanouillet was attempting to resist the fossilization of Dada as a historical movement, hence his declared aim to reconcile "dry laboratory studies" with Dada's "enthusiasm, exuberance, spontaneity, insolent laughter, and human touch" (p. 2). Dada à Paris was first published in French in 1965, and revised and expanded by Anne Sanouillet in 1983 and 2005. It is the 2005 revised edition which is now available in a long-awaited English translation by Sharmila Ganguly. A leading scholar of Dada, editor ot the first French academic journal on the subject, Cahiers Dada et Surréalisme (1965-7), and co-founder and first president of the Association for the Study of Dada and Surrealism (1972), Sanouillet has made a major contribution to the establishment of Dada as a distinctive movement. His Dada à Paris, the first major scholarly work on Dada, remains today an essential reference for scholars in the field. [...]
2012
The MIT Press
720 pages
$34.95 (paperback $19.57)
ISBN: 9780262518215
---
Few texts have played as seminal a role in reconstructing the history of the avant-garde as Michel Sanouillet's Dada à Paris, first published in 1965, revised and expanded by Anne Sanouillet in 1993 and 2005, and now finally translated into English. Writing at a time when Dada was seen as little more than a phase in the prehistory of surrealism, Sanouillet conducted extensive archival research and interviewed many of the protagonists of that brief but groundbreaking cultural moment to provide a detailed account of the complex network of relations that, over a period of less than four years, from 1920 to 1923, brought together many of the protagonists of the European and North American avant-garde in the Dada adventure. A concise but comprehensive introduction sketches the genesis of the movement in Zurich and its rapid dissemination throughout Europe and in New York. The book then shifts its focus to the French capital, where a group of young writers – the "three musketeers" André Breton, Louis Aragon, and Philippe Soupault – formed in the poetic environment of Apollinaire's "new spirit," found a new direction for their literary research in the works of Dada co-founder Tristan Tzara and in particular in his Dada Manifesto 1918. By January 1920, Tzara was himself in Paris, where he had been preceded by Francis Picabia, and soon they, Breton and his friends, and several other artists (mostly writers) joined forces.
Sanouillet chronicles in minute detail, sometimes literally day by day, the public initiatives of the group – art exhibits, publications, and most especially public "performances" – meant to challenge and undercut the cultural values of their mainstream audiences. He also describes the rivalries that opposed Dada to other avant-garde factions (Cocteau was especially detested) and the internal divisions that eventually and perhaps predictably tore the movement apart. The narrative is well-known. By mid-1921, two antagonistic conceptions of Dada emerged: one, embodied by Tzara, identified its spirit in the pure undermining of all positive values and in the immediacy of the gratuitous gesture. The other, with Breton as its main proponent, sought to channel that destructive impulse toward the articulation of "a line of direction, if not a goal," and would eventually result in the emergence of a full-fledged avant-garde formation, namely surrealism. As the author rightly notes, in Paris, a city that by the early 1920s had seen and heckled and finally accepted every possible artistic avant-garde, Dada found itself confined to the sphere of literature (visual artists such as Picabia or Max Ernst had been formed outside France) and for the most part did not push its revolution into the wider artistic field, as in New York, or into the domain of politics, as in Germany. In its struggle with Dada, the institution of literature proved its remarkable resilience.
I said that the narrative is well-known, but it is so precisely because Sanouillet's book has played a crucial role in shaping it. Indeed, one of the reasons why Dada in Paris remains of such interest almost half a century after its initial publication is that, even in this updated edition with its references to the international consecration of Dada in the last twenty years, one can perceive behind the impeccable historical reconstruction the passions and antagonisms that in 1965 still divided the protagonists of this cultural season and of which the historian himself was by no means a neutral witness. (In one of his most scathing but also revealing comments, Sanouillet describes Breton and his faction as "champions of a respectful avant-garde, apprentice mandarins committed to playing out the futile game that would lead them from a juvenile revolution to the sanction of the Nouvelle Revue Française.") Dada in Paris is a book that deftly balances critical rigour and militant passion, the detachment of the historian and the proximity of the witness. With its immense apparatus, including some 250 letters and documents by the main protagonists and a bibliography of over 1,000 entries, it is also an irreplaceable reference work for the study of the avant-garde.
Luca Somigli in University of Toronto Quarterly
Volume 81, Number 3, Summer 2012
pp. 774-775
---
[...] By 1923 it was all over and Breton had established the surrealist movement. Sanouillet, summing up, points to the "primarily literary vocation" of Parisian Dada, while "in the United States the Dadaist revolution initially played out on the artistic plane, and in Germany on the political level." He says that Dada and surrealism "each expressed in its own way, in their entirety and complexity, the anxiety of an era and the pronounced wish of some particularly exacting minds to feel no satisfaction with partial solutions." They had their "sights on the same objective: the destruction of art, or at least of a certain conception of art." Surrealism provided a "semblance of coherence to a doctrine that had none" but it was "too often Dada without laughter."
Dada in Paris was first published in 1965, and this is a new edition, revised by Anne Sanouillet and translated by Sharmila Ganguly. The main text is supported by almost 200 pages of correspondence between Breton and Tzara, Picabia and Breton, and others. There are extensive notes and a large bibliography, plus details of on-line sources. It is obviously an essential book for anyone interested in the Dada movement generally and Paris Dada in particular. [...]
---
Anyone would think that the English-speaking world had just discovered Dada. A carnival of attention -- —both scholarly and otherwise -- —has been pitched around the international Dada movement over the past decade, resulting in an apparently accelerating Tilt-a-Whirl of Dada-oriented conferences, traveling exhibitions, anthologies and quality critical works. Fresh scholarly studies have emerged as a result of recent opportunities to access previously unavailable archival and other primary material of the movement. And classic critical and historical monographs on Dada, whose language of publication made them off-limits to many readers, are now appearing in English translation.
Jan Besemer in Raintaxi
---
See also reviews by Ian Pindar in the Times Literary Supplement of March 16, 2010 and others.
Preview of the complete text of Chapter 6: Dada's Beginnings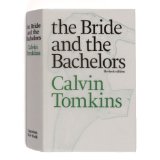 Calvin TOMKINS - The Bride and the Bachelors
As for Mr. Tomkins's book, which features writing on Marcel Duchamp, John Cage, Jean Tinguely, Robert Rauschenberg, Merce Cunningham and, as an addition to this new version, Jasper Johns, Mr. Tomkins modestly told us, "It amazes me that it's still in print."
April 1, 2014 (revised edition)
Gagosian Gallery
484 pages
40.87 euros
ISBN-10: 1935263757

Calvin TOMKINS - Marcel DUCHAMP: The Afternoon Interviews
In 1964, Calvin Tomkins spent a number of afternoons interviewing Marcel Duchamp in his apartment on West 10th Street in New York. Casual yet insightful, Duchamp reveals himself as a man and an artist whose playful principles toward living freed him to make art that was as unpredictable, complex, and surprising as life itself. Those interviews have never been edited and made public, until now. The Afternoon Interviews, which includes an introductory interview with Tomkins reflecting on Duchamp as an artist, guide and friend, reintroduces the reader to key ideas of his artistic world and renews Duchamp as a vital model for a new generation of artists.
Badlands Unlimited
Paperback publication date: 01/01/2013
110 pages
£10.76
$16.00
ISBN-10: 1936440393
Need It Now: Calvin Tomkins's Marcel Duchamp: The Afternoon Interviews
Marcel Duchamp: The Afternoon Interviews
We just got our hands on the slim book Marcel Duchamp: The Afternoon Interviews and we're so glad we did. In 1964, writer Calvin Tomkins interviewed Marcel Duchamp in his apartment in New York; this book, based on those five-and-a-half hours of taped dialogues with the artist, is the first time their conversations have been made public. One of the most important and enigmatic artists of the 20th century, Duchamp sparked outrage with Nude Descending a Staircase, No. 2 in 1912, then again by turning a urinal into art and titling it Fountain in 1917. He was already a celebrity when he arrived in New York from France in 1915 and was revered as a god-like figure for his subversive and ground-breaking body of work that continues to defy categorization. In about 1923, Duchamp was thought to have given up art for chess which he pursued vigorously, all the while working on his last major installation for some twenty years shrouded in secrecy. This series of frank tête-à-têtes offers insight into the artist's work but also the principles that guided his fascinating life and practice.
Chris F. WESTBURY - The Bride Stripped Bare by Her Bachelors, Even
The Bride Stripped Bare by Her Bachelors, Even is the name of a big, cryptic, provocative piece of modern art — part painting, part sculpture — that took the French-American artist Marcel Duchamp eight years to complete before it was first unveiled in Brooklyn in 1926.
Some 88 years later, The Bride Stripped Bare by Her Bachelors, Even is also the name of the debut novel by Edmonton's Chris F. Westbury and published by Counterpoint. The title is fitting, given that the book is about two Duchamp fanatics who take a road trip to see the world's largest collection of his work in Philadelphia, and that it features several extended riffs on the pleasures of looking at, or even just thinking about, art.
Recent Canadian Books
(not Dada, but good reads)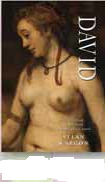 Allan Wargon - David
A biographical novel of the biblical King David. It follows the Bible very closely, but imagines the motivations the Bible only hints at.
Format: Kindle Edition
File Size: 395 KB
Print Length: 218 pages
Publisher: Pied Piper Books (July 27 2012)
Sold by: Amazon Digital Services, Inc.
Language: English
Kindle Price: 7,20 euros includes free international wireless delivery via Amazon Whispernet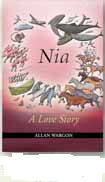 Allan Wargon - Nia
This is the story of a man and woman in love, with all the doubt, hesitation, delusion, jealousy, desire, passion, ecstasy and pain of people thus enthralled.
Format: Kindle Edition
File Size: 573 KB
Print Length: 285 pages
Publisher: Pied Piper Books (Oct 17 2012)
Sold by: Amazon Digital Services, Inc.
Language: English
Kindle Price: 7,20 euros includes free international wireless delivery via Amazon Whispernet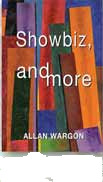 Allan Wargon - Showbiz, and more
The novella, Showbiz, tells the story of an unusual man's great achievements and reach for an ideal, only to have everything he is and has accomplished defeated by the nature of his inner being and those who prey on it. His close friend experiences, in tandem, his own fulfillment and loss. Both are engulfed by the shallowness and cynicism of politics.
The poems — the 150 sonnets of Affairs — deal with yearning, love, illusion and despair; they are a human cry against the complexities and restrictions of the real world.
The short tales of Three Stories are tender and dark, observing the hopes and brutalities of men and women.
Format: Kindle Edition
File Size: 411 KB
Print Length: 224 pages
Publisher: Pied Piper Books (May 30 2012)
Sold by: Amazon Digital Services, Inc.
Language: English
Kindle Price: 8,19 euros includes free international wireless delivery via Amazon Whispernet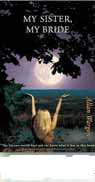 Allan Wargon - My Sister, My Bride
Inspired by the world's supreme love poem, this account of loneliness and love, passion, joy, gratitude, illusion, despair, disagreement, quarrel, parting and concord expresses all the shades of feeling between a man and the mercurial woman he is mad about.
Format: Kindle Edition
File Size: 327 KB
Print Length: 152 pages
Publisher: Pied Piper Books (Aug 29 2012)
Sold by: Amazon Digital Services, Inc.
Language: English
Kindle Price: 7,20 euros includes free international wireless delivery via Amazon Whispernet
The four Wargon editions are also available as regular print books on
http://allanwargon.com/