The Dada Movement - Berlin, Cologne, Hanover, Holland
Germany Dada: An Alphabet of German Dadaism
Parts 1 & 2 - 1969
Helmut Herbst - Director, Cinematographer, Screenwriter
This superb documentary concerns the contributions of German artists to the Dada movement. Created in 1916, the organizers rejected previous convention and delighted in nihilistic satire in painting, sculpture and literature. Comparisons are made between the movement and the political and social upheaval at the time of the release of this feature (1969).
Dan Pavlides, All Movie Guide
---


Erste Internationale Dada Messe (First International Dada Fair) - 1920
Berlin
The Dada movement, formed in Zurich 1916, was a reaction to World War I, its anarchic iconoclasm appealing to the artists George Grosz, Kurt Schwitters, Max Ernst and John Heartfield who organized the First International Dada Fair in Berlin in 1920. Also a reaction to the horrors of the war was the Neue Sachlichkeit/New Objectivity movement, which expressed the bitter social criticism of George Grosz, Max Beckmann, and Otto Dix.
The Berlin movement's originality stemmed from its political militantism: it was involved in the social upheavals and the Spartakist revolution which broke out at the end of the war in the German capital. Its plastic works, ferociously subversive, retain for us the cruel image of the twilight of the bourgeoisie.
Raoul Hausmann 1886 - 1971
A complete source -- scads of links, photos and articles about Hausmann, with many repetitions.
---
| | | | |
| --- | --- | --- | --- |
| | Raoul Hausmann: Dada siegt! | | Raoul Hausmann: Tête mécanique 1919-1920. |
Raoul Hausmann was born in Vienna (1886). He spent his early years in Berlin where he met with Johannes Baader and who joined him and Richard Huelsenbeck in founding Dada Club in 1918. During this period of intense activity he contributed to the review Die Freie Strasse and to the Club Dada. He founded and ran, together with Joannes Baader and Richard Huelsenbeck Der Dada and organized the first Dada exhibition in Berlin.
---
Die Freie Strasse
Nr. 9. November 1918. "Gegen den Besitz!" [Editors: Raoul Hausmann and Johannes Baader.] (4) pp. Front page with massive block, tilted on the diagonal, printed in black. Tabloid folio, folded as issued. Texts by Raoul Hausmann ("Gegen den Besitz!," uncredited), Johannes Baader ("Die Geschichte des Weltkrieges," under the pseudonym Joh. K. Gottlob), Karl Radek ("Revolution und Konterrevolution"), et al. "That psychoanalytic ideas were acceptable to Dadaists in Berlin was consistent with their adherence to systematic politics, which Dadaists in France, Switzerland and America rejected. Even so it was not Freudian psychoanalysis that interested Dada in Berlin, but a psychotypology that was based on the researches of Otto Gross as systematized in 1916 by Franz Jung... who, the following year, founded the review Die Freie Strasse to propagate these views. It became the first voice of Dada in Berlin" (Rubin).
Berlin-Friedenau (Verlag Freie Strasse), 1918.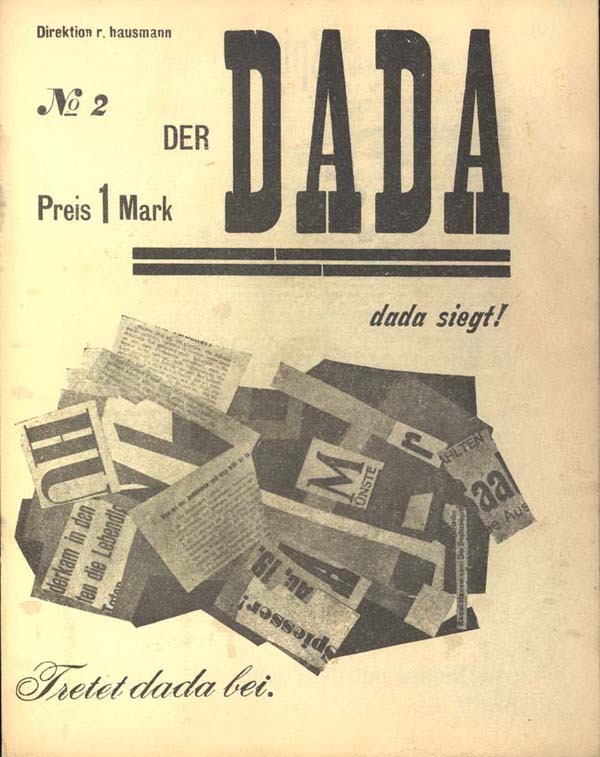 After the Dada movement, he undertook research in optophonetics, and at the beginning of the 1930s, photography became his preferred means of expression, with views of the Baltic Sea, the island of Sylt, and numerous nudes on the beach (Vera Broido). In 1933 he took refuge in Ibiza. There he developed research, not so far from that of ethnography, on the traditional settlement. From 1937-38, he lived in Czechoslovakia, where he began more research on photography. During the war he lived in a little village in France, near Limoges. After the war he moved to Limoges and, thanks to a parcel of photographic paper sent by Moholoy-Nagy, he made his first photograms. Then he returned to work in photography, photomontage, and sound poetry. From 1959 to 1964 painting became one of the most important aspects of his artistic production, which he later transformed into pictographic writing. Hausmann died in Limoges in 1971.
Richter and Huelsenbeck were responsible for bringing the Dada virus to Berlin where it found a highly favourable culture medium in the little libertarian group formed by Raoul Hausmann, Franz Jung, Johannes Baader, George Grosz, John Heartfield and a dozen young intellectuals more or less recently graduated from Herwarth Walden's Sturm.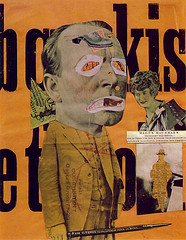 Raoul Hausmann: The Art Critic (Der Kunstkritiker - 1919-20). See the article by Michael Glover "Great Works: The Art Critic 1919-20 (31.8x25.4 cms)" in The Independent.
Hausmann, a founding member of the Berlin Dada group, developed photomontage as a tool of satire and political protest. Although the 'art critic' is identified by a stamp as George Grosz, another member of the group, the image was probably an anonymous figure cut from a magazine. The fragment of a German banknote behind the critic's neck suggests that he is controlled by capitalist forces. The words in the background are part of a poem poster made by Hausmann to be pasted on the walls of Berlin.


Raoul Hausmann: Dada Cino - 1920
ABCD. Photograph (self-portrait) of Hausmann from the 1920's at the Metropolitan Museum of Art.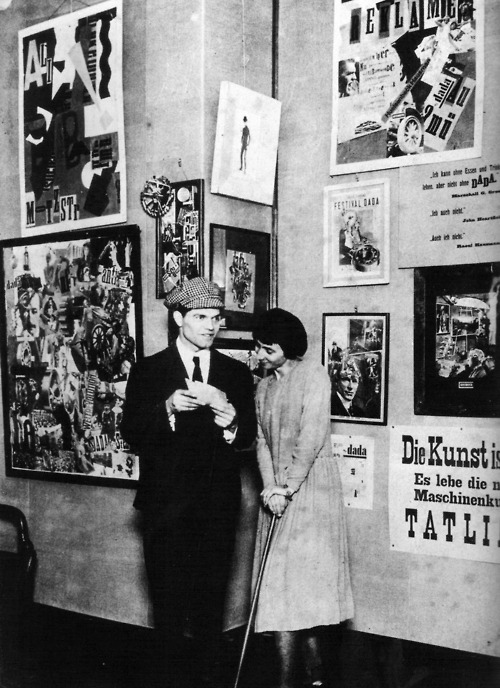 Raoul Hausmann and Hannah Höch at the opening of the First International Dada Fair held at the Otto Burchard Gallery, Berlin, June 30, 1920.
Photo by Robert Sennecke
---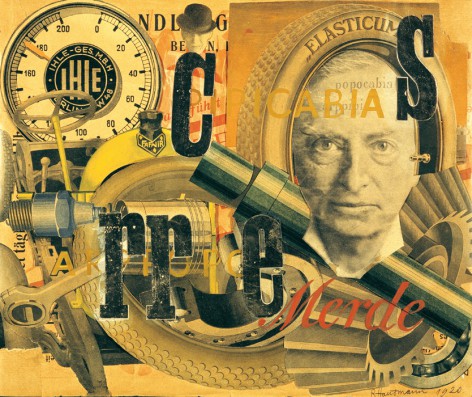 Raoul Hausmann: Elasticum, 1920, collage and gouache
Courtesy of the Galerie Berinson, Berlin
See Cut & Paste, a history of photomontage for articles and illustrations about Raoul Hausmann, Hannah Höch, John Heartfield and Kurt Schwitters.
---
Johannes Baader 1875 - 1955
Raoul Hausmann and Johannes Baader, 1919
Johannes Baader was born in Stuttgart on 21 June 1875. Between 1892 and 1895, he was apprenticed in masonry while he studied architecture at Stuttgart's Staatliche Baugewerbeschule. In 1903 he became an architect in the Vereinigung bildender Künstler für monumentalen Grabmalsbau in Dresden. In 1905 Baader moved to Berlin, where he met Raoul Hausmann.
Declared unfit for military service, he dedicated his energies to what he called "spiritual architecture", utopian designs of monumental, metaphysical, and messianic dimensions, and contributed to the journals Das Blaubuch, Die freie Straße, and Der Dada in 1917.
As self-proclaimed Oberdada Baader's Dada tactics were mainly in the form of spectacular manifestos and public performances, often in collaboration with Raoul Hausmann. In the autumn of 1917 Baader and Hausmann founded a Christus GmbH to protect war deserters, thus associating conscientious objection with Christian Martyrdom. Similarly, on 17 November 1918, Baader staged a performance in the Berlin cathedral called Christus ist euch Wurst. This action provoked a public scandal, and Baader was arrested for blasphemy. Hausmann, in turn, wrote a letter to Berlin's Minister of Culture arguing for Baader's right to free speech. In March 1919 Baader and Hausmann announced the Dadaist Republik Nikolassee to start on 1 April 1919 under the auspices of the Central Committee of the Dada Movement. On 12 March 1919 Baader and Hausmann staged a 'Propaganda Evening' in Café Austria, where they founded the Antinationaler Rat der unbezahlten Arbeiter (ARUDA) and Club der Blauen Milchstraße. Baader announced the death and the resurrection of the Oberdada on April 1 (starting year 1 in a new era), and as such, participated in the 'Erste Berliner Dada-Ausstellung' in the Graphisches Kabinett of I.B. Neumann.
Baader was a participant in the discourse of postwar Weimar Germany in a dadaist fashion, putting out his Buch des Weltfriedens, a reaction to the Treaty of Versailles, on 28 June 1919, which became known as Handbuch des Oberdada (HADO). Similarly, on 16 July, Baader threw flyers into the meeting of the Weimar National Assembly printed with the slogan 'Dadaists against Weimar' and three days later proclaimed the socialist politician Philip Scheidemann as 'Ehrendada' in a streetcar. On 11 November, exactly a year after the Kaiser abdicated, Baader printed a calling card that announced him to be president of the Earth and Universe.
Johannes Baader died on 14 January 1955 in Adldorf, Bayern.
---
Richard Huelsenbeck 1892 - 1974
From the First German Dada Manifesto of 1918:
"Art in its execution and direction is dependent on the time in which it lives, and artists are creatures of their epoch. The highest art will be that which in its conscious content presents the thousandfold problems of the day, the art which has been visibly shattered by the explosions of last week... The best and most extraordinary artists will be those who every hour snatch the tatters of their bodies out of the frenzied cataract of life, who, with bleeding hands and hearts, hold fast to the intelligence of their time."

The Electric Tram
The 1919 oil-and-collage-on-board work The Electric Tram by Otto Dix was one of few lots to sell far above its estimate at a Sotheby's auction in February 2012. Valued at 700,000 pounds to 1 million pounds, this Dada-influenced evocation of urban life was also making its debut at auction, this time from a German collection. It was bought by a telephone buyer for 3 million pounds.

---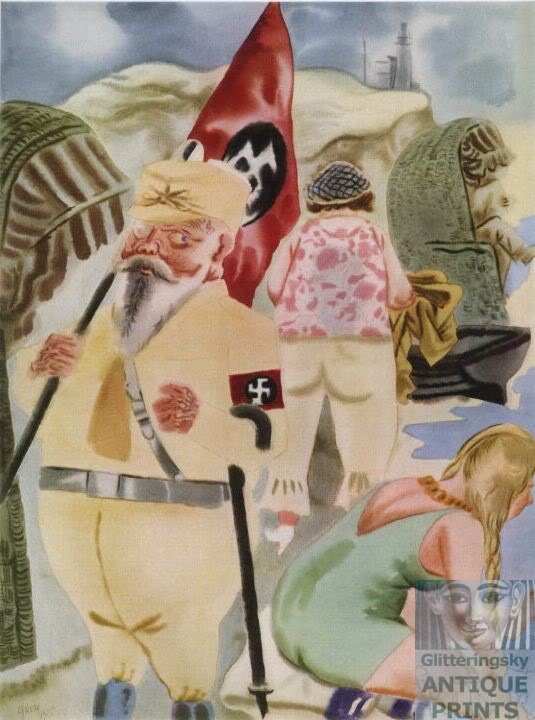 George Grosz: Man of Opinion


George Grosz: Der Blutige Ernst
---

Hannah Hoch (born Anna Therese Johanne Hoch on November 1, 1899) remains a well-known member of the Berlin Dada movement, and was among the first prominent artists to work with photo-montage techniques. Hoch attended the College of Arts and Crafts in Berlin from 1912 to 1914, during the tense lead-up to the first World War.
Hoch later described the war as having shattered her view of the world and affording her a newly political consciousness. Hoch initially became involved with Dada around 1919, as a result of her relationship with fellow Dadaist Raoul Hausmann. It was through Hausmann that Hoch was introduced to several other influential artists of the Dada movement, among them Kurt Schwitters, Hans Richter, and Piet Mondrian. Hoch's work, while mostly in keeping with the general Dadaist aesthetic, skillfully added a wryly feminist note to the movement's philosophy of disgust with the perceived wrongs of society.
The Dadaists insisted that the valuing of "logic" among modern cultures had led to an over-valuing of conformity, classism, and nationalism which in turn provided a suitable environment for the horrors of World War I. Dadaists therefore rejected this devotion to reason in favor of chaos, nonsense, and irrationality. Through her art, Hoch quietly submitted female equality to the list of anti-bourgeois and radically leftist sentiments which Dada espoused.
Unfortunately Hoch remained alone in her attempts to convey this message, and remained the only female Berlin Dadaist, never fully accepted by the rest of the group. Hans Richter patronizingly dismissed her contribution to the movement by calling it merely "the sandwiches, beer and coffee she managed somehow to conjure up despite the shortage of money," failing to note that Hoch was among the few members of her immediate artistic circle with a reliable income. She herself wrote:
"None of these men were satisfied with just an ordinary woman. But neither were they included to abandon the (conventional) male/masculine morality toward the woman. Enlightened by Freud, in protest against the older generation... they all desired this "New Woman" and her groundbreaking will to freedom. But—they more or less brutally rejected the notion that they, too, had to adopt new attitudes...This led to these truly Strinbergian dramas that typified the private lives of these men."
by Meghan Maloney - April 29, 2013
---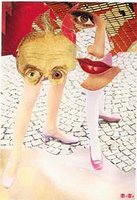 Anna Therese Johanne Höch was born in Gotha, Germany, in 1889. She studied graphic arts at the College of Arts and Crafts in Berlin from 1912 to 1914 until she was recruited to work for the Red Cross during the war. Höch also trained in fabric design and textiles after her time spent in the war, working part time for Ullstein Verlag, Weimar Berlin's largest publishing empire. She created lace tablecloths and needlepoint patterning and most notably had access to the company's catalogues which she used to create her early photomontages. In 1915, Höch met Raoul Hausmann and through him became associated with the Berlin Dadaists. Hausmann and Höch, under the influence of Dadaism, perfected the art of photomontage and used it as satirical propaganda. Höch became the only female to show works at the First International Dada Fair in 1920.
In 1922, Höch ended her relationship with Hausmann and left the Berlin Dadaists. Known for her independent spirit, masculine dress, and bisexual tendencies, Höch then had a relationship with Til Brugman, the Dutch writer and linguist from 1926 to 1929. She continued to produce her own art and champion female rights until the onset of World War II when the Nazi regime banned all artistic movements, claiming them to be "degenerate." Instead of fleeing Berlin, Höch chose inner exile so she could protect her precious artwork and Dada memorabilia. After the war, Höch quietly remained in Berlin and focused on smaller works. She died in 1978 at the age of eighty-nine. The Museum of Modern Art in New York held a retrospective of her work in 1997 to commemorate her contribution to Dada and women's art as a whole. NMWA's collection includes eighteen objects created by Höch.
by Ali Printz
Currently an intern in the Library and Research Center at the National Museum of Women in the Arts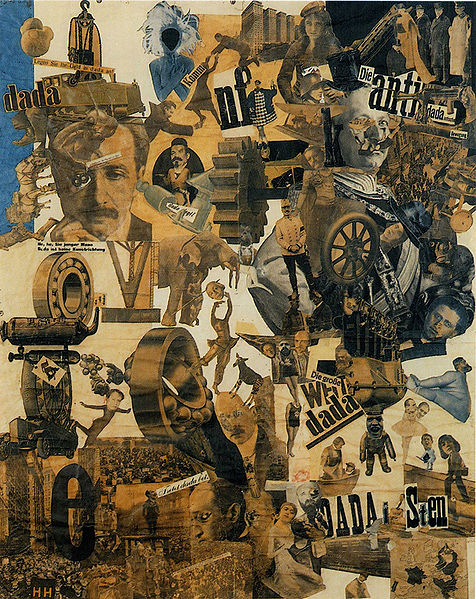 Hannah Höch: Cut With the Kitchen Knife

Hannah Höch: DaDa Dolls - 1916

Hannah Höch: DaDandy - 1919

Hannah Höch: And When You Think the Moon is Setting - 1921
The Quiet Girl with a Big Voice - Hannah Hoch
---
In 1918, Heartfield made a decision that would ultimately impact the rest of his career. He became a member of the Berlin Club Dada as a protest to Germany's current barbaric state and also joined the German Communist Party.
In 1919, after co-editing Jedermann sein eigner Fussball that was banned after its first edition, Heartfield joined his brother Wieland and George Grosz to found Die Pleite, a satirical, political magazine.
Continuing his activity in the Dada club, in 1920, he helped organize the Erste Internationale Dada-Messe (First International Dada Fair) in Berlin.

Jedermann sein eigner Fussball - February 1919
---
Cologne
Soon after the declaration of war, as Arp was taking refuge in Switzerland, Max Ernst went into combat in the German artillery. Discharged in the beginning of 1919, he returned to his native Westphalia, where Arp was to join him a few months later, fortified by his Dadaist experience in Zurich.
Meanwhile, in Cologne, Ernst had met Alfred Grünwald, son of a corporate managing director, founder of the Rhine branch of the Communist Party, and with a reputation under the pseudonym Johannes Theodor Baargeld, as a poet and painter.
Like the Berlin Dadaists, the two men took part in the revolutionary movement of 1918-1919. They published a Communist periodical, Der Ventilator (impossible to find today, but recently reprinted), some issues of which sold up to twenty thousand copies on the street and at factory and barrack gates, and which would ultimately be banned by the occupying British forces in 1919. [...]
Thanks to the shared intellectual resources of Ernst, Arp and Baargeld, Dada was to see some of its finest accomplishments in Cologne in collage. [...]
But of all the experiments tried out in Cologne, the one that remains, historically, the most important was the fusion of these distinct talents into a series of anonymous works facetiously named Fatagaga ("Fabrication of tableaux guaranteed to be gasometric"). By creating in this way a company producing collective collages made with or without prior agreement, the three men inaugurated a technique that the surrealists would fruitfully develop (as the "exquisite corpse"). This company was called Centrale W/3 ("W für Weststupidien, 3 für die 3 Verschworenen (conspirators): Hans Arp, J. T. Baargeld und M.[ax] E.[rnst]"); its mouthpiece was the eponymous magazine Dada W/3, which also did not survive its infancy.
Excerpt from Michel SANOUILLET, Dada in Paris.
---
Willy Fick 1893 - 1967
Anti-war proponents such as Willy Fick, his sister Angelika and his future brother-in-law Heinrich Hoerle felt confident the S.P.D.(Social Democratic Party), would not vote for war credits in 1914, but, when it did Willy Fick registered as a conscientious objector. He served in a non-combat position as a wagon driver from 1917 to 1918. He had time until 1917 to develop his art which started with anti-war linocuts mocking the sheepishness of the masses. Willy's acquaintanceship circle enlarged during the war to include Otto Freundlich and Carl Oskar Jathoboth of whom had returned early from the front. From 1916 onwards Carl and Kaethe Jatho ran an artist-centered anti-war group in their home where Willy met their friend Franz Wilhelm Seiwert an artist and arts theorist with a broad circle of friends. Everyone was connected either through art, politics, war or love. Willy got into closer contact with the married artists Marta Hegemann and Anton Raederscheidt who were friends of the Hoerles.
However unlike those noted, Willy Fick had full-time employment. He worked for the City of Cologne Transportation Department between 1918 and 1923 during a time when cash-strapped Germany fomented with revolt. Since Willy squeezed his art time out from work and because he was a natural buffoon, Fick became the butt of sarcastic humour during the Dada time. He appeared in the Bulletin D exhibition as an "Unknown Master from the Beginning of the 20th Century" and in the Brauhaus Winter exhibition as "a vulgar dilettante". In a taped interview with Prof. Michel Sanouillet in 1967 he explained his part in these exhibition/events that mocked the established art world. He also stated that his work traveled with the Bulletin D exhibition to the Graphic Cabinet Von Bergh and Co in Duesseldorf in 1920. Fick's first works under his own name appeared in Stupid 1, the catalogue of the continuous exhibitions at the Raederscheidt apartment on Hildeboldplatz. His child-like works were in keeping with the Stupid group's intention to create a newer better world after the Armageddon of WWI. Fairy-tale like watercolours from this period show the hope for a better world that was soon dashed by the dire post-WWI situation and by the death of his sister Angelika Hoerle who died of tuberculosis at 23 years of age. [...]
---
---
Johannes Theodor Baargeld 1892 - 1927
(Alfred Emanuel Ferdinand Grünwald)

Biography and some works of 1920 in The Museum of Modern Art
---
Hanover
---
Holland
Theo van Doesburg (Christian Emil Marie Küpper) 1883 -1931

Theo van Doesburg in 1915
Biography at the MoMA
Biography on Wikipedia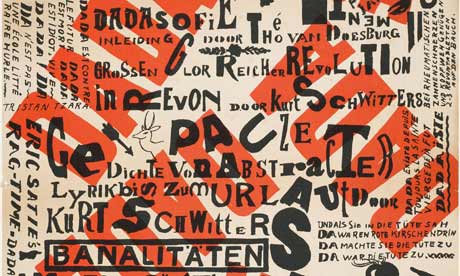 Poster of the Kleine Dadasoirée 1922
---
Paul Citroen 1896 - 1983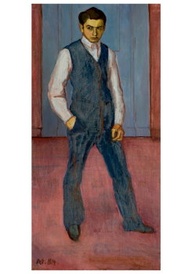 Paul Citroen - Self-portrait - 1914

Paul Citroen - Metropolis - 1923
Paul Citroen was born in Berlin, December 15, 1896. Dutch photographer, photomontagist and painter, active also in Germany. He belonged to the DADA group in Berlin and was a friend of George Grosz, Raoul Hausmann, John Heartfield and Erwin Blumenfeld. From 1922 to 1925 he was associated with the Bauhaus in Weimar, producing during this period the photocollage Metropolis (1923; Leiden, Rijksuniv.), the single work for which he remains best known, and which has become a classic image of the 20th century city. His period at the Bauhaus clearly helped shape his photographic style, his photomontages in particular betraying the influence of both Dada and Constructivism. In 1927 he moved to the Netherlands, founding and then teaching at the Nieuwe Kunstschool in Amsterdam (1933-7). From 1935 to 1940, and again from 1945 to 1960, he was professor of drawing and painting at the Academie voor Beeldenden Kunsten in The Hague. He continued to work as both a painter and photographer without ever recapturing the fame that he had enjoyed with his work of the 1920s. He died in Wassenaar, March 13, 1983.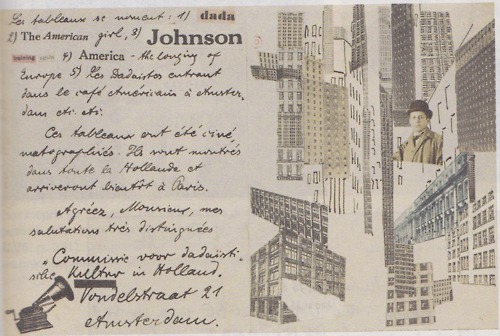 Paul Citroen, Letter to Francis Picabia, Bibliothèque Doucet, Paris.