Francis Picabia 1879-1953
Francis Picabia was a French painter, illustrator, designer, writer and editor, who was successively involved with the art movements Cubism, Dada, and Surrealism. He was the son of a Cuban diplomat father and a French mother. After studying at the École des Arts Décoratifs (1895-–97), he painted for nearly six years in an Impressionist mode akin to that of Alfred Sisley. In 1909 he adopted a Cubist style, and, along with Marcel Duchamp, he helped found in 1911 the Section d'Or, a group of Cubist artists. Picabia went on to combine the Cubist style with its more lyrical variation known as Orphism in such paintings as I See Again in Memory My Dear Udnie (1913-–14) and Edtaonisl (1913). In these early paintings he portrayed assemblages of closely fitted, metallic-looking abstract shapes. As Picabia moved away from Cubism to Orphism, his colors and shapes became softer.
In 1915 Picabia traveled to New York, where he, Duchamp, and Man Ray began to develop what became known as an American version of Dada. Here Picabia exhibited at Alfred Stieglitz's gallery, 291, and contributed to the proto-Dadaist review 291. About 1916 he gave up the Cubist style completely and began to produce the images of satiric, machine like contrivances that are his chief contribution to Dadaism. The drawing Universal Prostitution (1916-–19) and the painting Amorous Procession (1917) are typical of his Dadaist phase; their association of mechanistic forms with sexual allusions were successfully shocking satires of bourgeois values.
In 1916 Picabia returned to Europe. He settled in Barcelona, where he published the first issues of his own satiric journal 391 (named in reference to the New York review). He subsequently joined Dadaist movements in Paris and Zürich. In 1921 he renounced Dada on the grounds that it was no longer vital and had lost its capacity to shock. In 1925 he left Paris to settle in the south of France, where he experimented with painting in various styles. He returned to live in Paris in 1945, and he spent the final years of his life painting in a mostly abstract mode. Picabia was notable for his inventiveness, adaptability, absurdist humor, and disconcerting changes of style.
See also Francis Picabia Dada 4-5 - A superb group of illustrations on and about Picabia
See also "Francis Picabia" on Wikipedia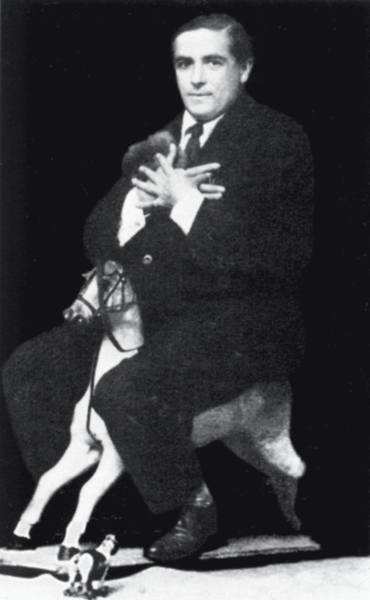 Picabia à dada (1919)
Picabia by Picabia

Picabia by Man Ray (1920)

Picabia by Man Ray (1922)
(paintings from various periods - source: YouTube)
---
| | |
| --- | --- |
| | |
| | 391 n° 6 - Américaine |
Dadart and the Centre du XXe Siècle are selling a photocopied reprint (with Picabia's permission) of his famous dada periodical, 391, with its critical apparatus, in two volumes, for 40 euros + postage.
---
---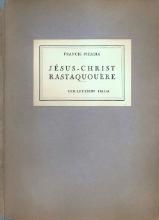 For Italian readers, Elisa CARDELLINI has translated the first 30 pages of Jésus-Christ rastaquouère. The original with translation is provided on
http://dada100.over-blog.it/article-inedito-francis-picabia-jesus-christ-rastaquouere-1920-102711482.html
---

Midi (Promenade des Anglais) 1923/1926
We have no excuse for inserting this "painting" into a website on Dada, except that Dadart originates in Nice also. The explanation can be found in an article from The Boston Globe by Sebastian Smee, "Picabia's mischievous postcard view of Nice".
"Picabia had split publicly from the other members of Dada a year or two before making this work. He felt that the iconoclastic movement was in danger of creating a "taste": "I was suffocating among them... I was getting terribly bored," he complained.
As these attitudes suggest, Picabia was irremediably naughty - and therein lies the source of his art's appeal."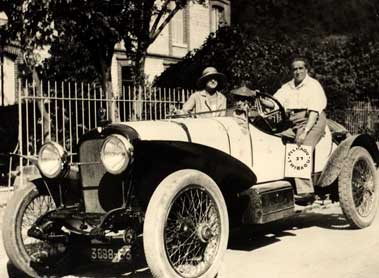 Germaine Everling, Suzanne Crotti and Francis Picabia in one of his many automobiles.

Francis Picabia - Villica-Caja in 1929
| | | |
| --- | --- | --- |
| | Portrait of an American Girl in the State of Nudity | (291, Nos 5-6, 1915) |
| Picabia in his studio | | Gabrielle Picabia |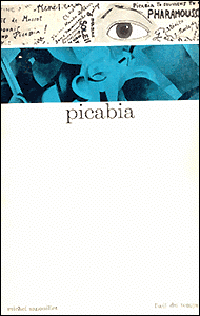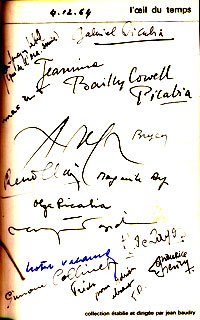 In October 1964, the Editions du Temps published the first comprehensive monograph on Francis Picabia, now out of print. On December 4th of that year, friends and relatives of Francis gathered around the author, Michel Sanouillet, at the Galerie Louis Carré, to sign the first copy. Among them were: René Clair, Max Ernst, Gabrielle Buffet-Picabia, Olga Picabia, Jeannine Bailly-Cowell Picabia, Jean et Marguerite Arp, Simone Breton-Collinet, Robert Valançay, Rodrigo de Zayas, Maurice Henry, Frédéric Deloffre, Camille Bryen, André Dunoyer de Segonzac et Jean-Jacques Lebel.
Sold by: Sotheby's on December 9, 2009 for 504,750 Euros (750,111 US$).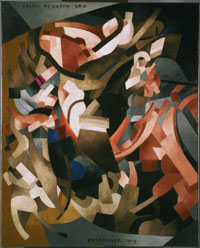 Catch as Catch Can (1913)
In this painting, Picabia combined the memory of a no-holds-barred wrestling match (known as "catch-as-catch-can") with the motions of the Polish dancer Stacia Napierkowska he saw rehearsing aboard an ocean liner. The inscription "Edtaonisl 1913" mixes up the letters of the French words étoil(e) [star] and dans(e) [dance] to describe this celebrated performer.

Negro Song I (1913), aquarelle et crayon sur carton, 66,4 x 55,9 cm (The Metropolitan Museum of Art, New York)

Parade amoureuse (Love Parade) (1917)


Fille née sans mère (Girl Born Without a Mother) (1916) National Galleries, Scotland
Picabia made this work by painting over an illustration of a steam engine, probably found in a technical journal relating to railway engineering. He selected some parts to paint over and added in others. The artist was influenced by the enthusiasm for mechanisation he saw in American culture. Here, he uses the machine as an ironic metaphor for human life. The title alludes to the creation of Eve from Adam's rib and also to the Virgin birth. The gold background may refer to Renaissance paintings of the Virgin and Child.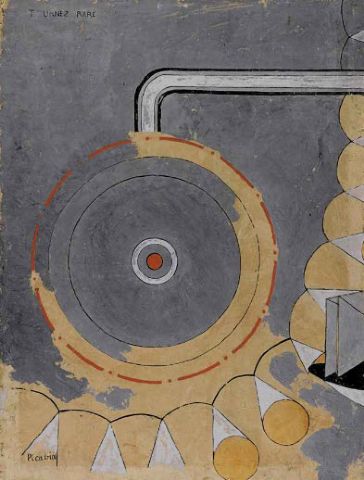 Tournez rare (Turn Rare) (1919)
Sold by:
Sotheby's on December 9, 2009 for 504.750 Euros (750.111 US$)
Having belonged to: Marcel Duchamp, Paris (Hôtel Drouot, Tableaux, aquarelles
et dessins par Francis Picabia appartenant à M. Duchamp, March 8, 1926)
André Breton, Paris
Simone Collinet, Paris (Galerie Furstenberg)
Matta, Paris (bought from Mme Collinet in the late 1950's)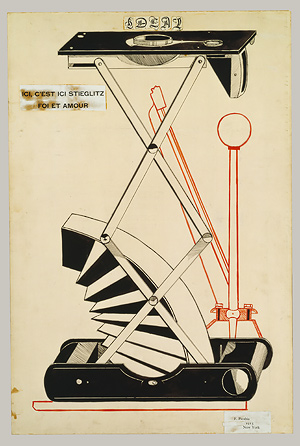 Ici c'est ici Stieglitz foi et amour (Here It's Here Stieglitz Faith and Love)

Réveil matin (Alarm Clock)
Picabia painted La Feuille de vigne (The Fig Leaf) using glossy household paint over another work entitled Hot Eyes. The original painting, which was based on a technical drawing of a turbine brake, caused a scandal when submitted for an important Paris exhibition in 1921. The figure in the new image is derived from Oedipus and the Sphinx (1808), a neo-classical painting by Ingres, with Picabia's addition of a fig leaf (the French say 'vine leaf') as a reference to censorship. The inscription DESSIN FRANÇAIS ('French drawing') sarcastically mocked the contemporary revival of interest in traditional art skills.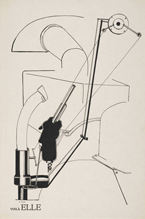 Voilà ELLE (There SHE Is) Mecanomorphic portrait (1915)

Little Udnie (1913-1914)
Sold on March 25, 1990
Estimated price: 15,000,000 - 20,000,000 FF ($ 2,602,359 - $ 3,469,812)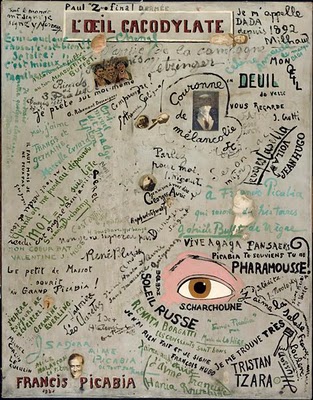 L'Oeil cacodylate

La Sainte Vierge (The Blessed Virgin) (1920)

Le Mouvement dada (The Dada Movement)

Le Double monde (The Double World) (1919)